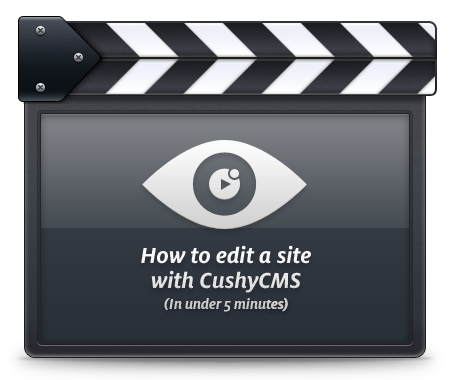 The easiest way to change content
Web Designers:
Allow clients to safely edit content
No software to install, no programming required
Takes just a few minutes to setup
Define exactly which parts of the page can be changed
Produces standards compliant, search engine friendly content
Content Editors:
Versatile
You define what's editable and Cushy will take care of the rest. Automagically handling text, html and images.
Fast
Define editable areas of your pages with a few CSS classes. Provide FTP details and you're done.
Easy
No programming required and no server requirements. You won't even need to train your clients.
Free
Unlimited free usage. Upgrade to the optional Pro plan for custom branding, color scheme and RSS feeds.
Reviews of CushyCMS
CushyCMS is a fast, simple and free content management system that aims to make life easier for web designers by simplifying content management.
—
Techcrunch
If you haven't seen it, Cushy is a completely free and extremely simple to use product that's come on the market recently.
—
Nettuts+
Cushy CMS is a hosted and free content management system that's lightweight, though powerful enough to jumpstart your site in a jiffy.
—
Six Revisions
Cushy CMS is an excellent option. With Cushy CMS you can easily give clients the access and ability to change content of a specific number of pages without everything else that they won't need.
—
Vandelay Design
Gallery of Cushy-Powered Sites
What some Cushy users have to say